Breaking News
Afghanistan Taliban Crisis Highlights: Taliban refuses to cooperate with US to stop extremist groups in the country
The remarks come after Islamic State claimed responsibility for several recent attacks, including a suicide bombing on Friday that killed 46 minority Shia Muslims and injured dozens as they stormed a mosque in the northern city of Kunduz. had prayed.
Senior Taliban officials and US representatives were to meet on Saturday and Sunday in Qatar's capital, Doha. Officials on both sides have said the issues include reining in extremist groups and evacuating foreign nationals and Afghans from the country. The Taliban have indicated flexibility on the evacuation.
Huge crowd at Kabul passport office
Huge crowds are seen at the passport office in Kabul, which opened on Wednesday, for those now expected to leave the Taliban-ruled country. The office was opened a day after the Taliban announced that all employees, including female employees, were asked to return to their offices.
As US troops began to pull out of Afghanistan in August, Kabul airport saw a chaotic scene. While some people were seen passing heir children over the airport fence, others were seen climbing onto the wings of the plane and tragically died as the plane was airborne.
Taliban fighters capture amusement park
Strolling carelessly with their machine guns in hand, Halimi and hundreds of fellow Taliban fighters enjoyed a rare day out with a visit to a popular waterside amusement park in Kabul. Friday's day trip to the sandy banks of the capital's Loom Reservoir was a welcome holiday for fighters after months of fighting and weeks of security duty since the Taliban came to power in mid-August.
"I am very happy to be coming to Kabul and going to the loom for the first time … The people welcomed me and my comrades in a brotherly manner," said 24-year-old Halimi, a fighter from the Middle Maidan Wardak province. Reuters, asking not to give his full name. All the fighters, who were heavily armed in the park, sipped tea and bought snacks from stalls along the shoreline.
Taliban fighters Mustashed from Wardak province watch as hundreds visit Kabul for the first time #taliban Fighters take a day off to visit amusement park in Kabul's Loom Reservoir #kabulihandjob #afghanistan October 8, 2021. Reuters/George Silva pic.twitter.com/cp5jTH2pSn

— Jorge Silva (@jgesilva) 10 October 2021
Spain to evacuate more Afghan workers, families left behind
Spanish authorities said on Sunday that the country has launched a new evacuation operation to evacuate more Afghans and their families following the Taliban takeover in Afghanistan.
Spanish Defense Ministry confirmed The Associated Press Media reports that it is working with the Ministry of External Affairs on a new evacuation mission.
The ministry said it would not give any further details as to the security of the mission, but Spanish news agency EFE reported that the plan was to evacuate about 200 people through Pakistan.
Spain's Foreign Affairs Minister Jose Albers visited both Pakistan and Qatar last month and asked for their assistance in evacuating more Afghan workers who were not included in the first airlift from Kabul.
India's concern over communal, minority religion attacks reflected in UNSC statement condemning Afghan mosque attack
The UN Security Council strongly condemned the "atrocious" ISIS terrorist attack on a mosque in Afghanistan and other recent attacks against religious institutions in the war-torn country, references that India has clearly emphasized in a statement issued by the powerful UN body. given and rejected any attempt to dilute them.
The 15-nation UNSC on Saturday issued a press statement in which members strongly condemned the dastardly and cowardly terrorist attack in Kunduz, Afghanistan, on 8 October.
"The attack, which was claimed by the Islamic State in Khorasan Province (ISKP), an organization affiliated with the Islamic State in Iraq and the Levant (ISIL/Da'esh), resulted in the deaths and injuries of more than 150 people. The attack on the Gojar-e-Saeed Abad mosque follows the recent attacks against religious institutions in Afghanistan.
Terrorists of Afghan origin may try to enter J&K once the situation in Afghanistan stabilizes: Indian Army Chief
Chief of Army Staff General MM Naravane on Saturday did not rule out the possibility of foreign militants of Afghan origin trying to infiltrate into Jammu and Kashmir once the situation in Afghanistan stabilizes as he cited similar instances when the Taliban have been in power in two decades. was in power in Kabul. Earlier.
Army Chief General MM Naravane.
Also, he said that the Indian Armed Forces are ready to deal with any situation as they have a very strong anti-infiltration grid as well as a mechanism to prevent terrorist activities in the hinterland of Jammu and Kashmir.
UNHCR says world should send committed aid to Afghans to avert economic, refugee crisis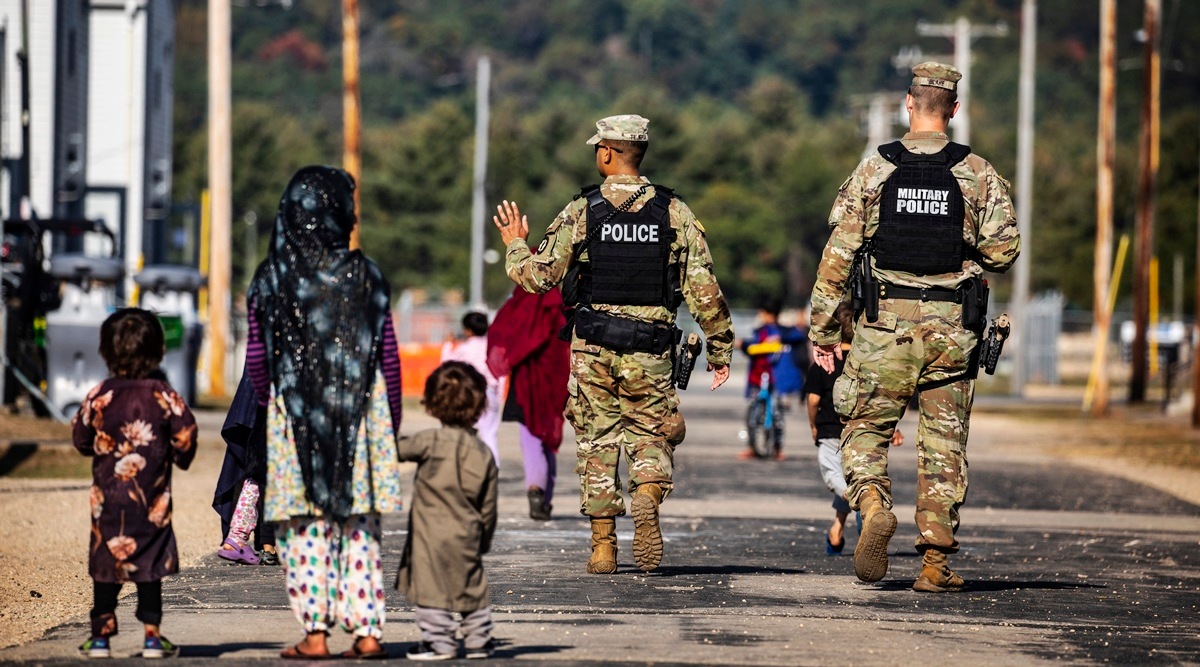 US military police leave behind Afghan refugees in the village of Fort. McCoy US Army Base Thursday, September 30, 2021 in Ft. McCoy, Wisconsin. (AP)
The UN refugee agency warned on Saturday that a lack of resources in Afghanistan was hindering efforts to avert the economic crisis. This, the couple added, could lead to a new influx of refugees to the rest of the world and therefore countries should provide immediate aid to Kabul. "The humanitarian crisis in Afghanistan remains really serious," Babar Baloch, spokesman for the UN High Commissioner for Refugees, said in an interview in Islamabad.
"The focus must be on inside Afghanistan to avoid and avert another refugee crisis." Ever since the Taliban took control of Afghanistan on August 15, the country – already reeling from drought and severe poverty
Decades of war – has seen its economy crumbling.
Most of the country's international aid has been cut, although there are exceptions for humanitarian aid. Billions of dollars of central bank assets kept abroad have also been frozen, which has put pressure on the banking system.
More than 100 Afghan nationals returning home from India via Tehrani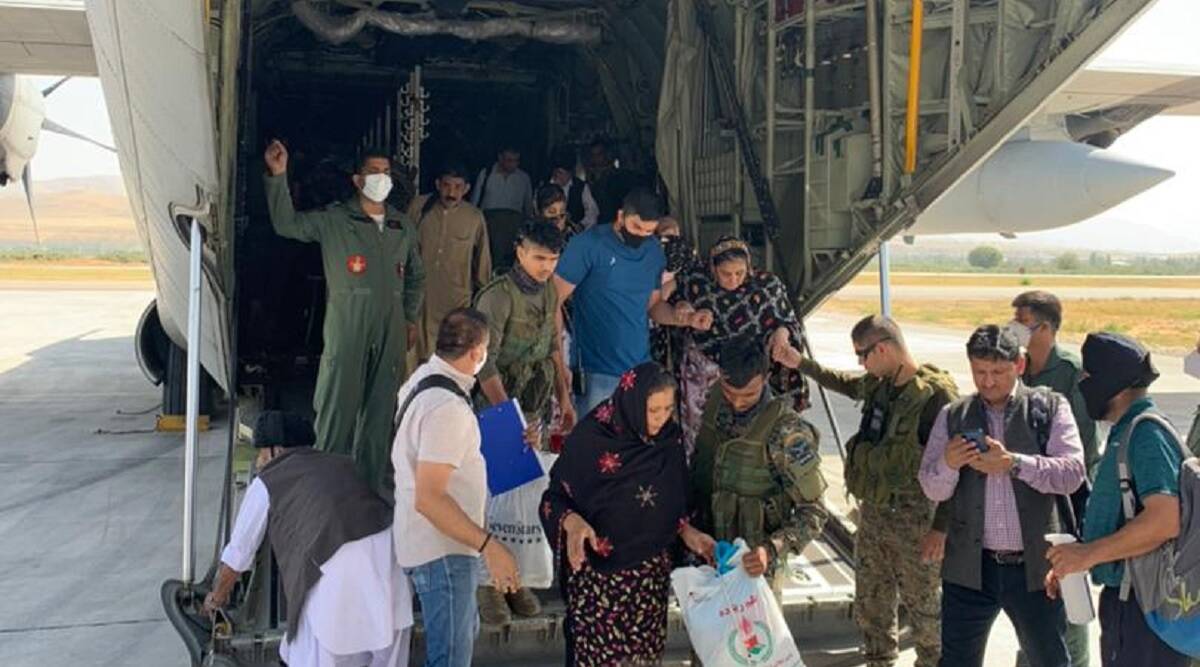 The UN refugee agency has said that some half a million Afghans could flee their homeland by the end of this year. (Twitter/MEAIndia)
Afghan Embassy officials said on Saturday that more than 100 Afghan nationals have flown back from India to Tehran in Afghanistan.
Several hundred Afghan nationals, who had come to India for various reasons, including medical treatment, wait to return to Afghanistan following the suspension of civilian flights between the two countries after the Taliban came to power in Kabul on August 15. The first group More than 100 Afghan nationals left for Tehran on Friday on a Mahan airline flight, officials said.
US condemns suicide attack on Afghan mosque; Afghan says he deserves a 'terror free future'
The US has strongly condemned the suicide attack on worshipers at a mosque in Afghanistan that killed at least 46, saying the Afghan people deserve a "terror-free future".
"We express our deepest condolences to the victims and their families. "The Afghan people deserve a terror-free future," State Department spokesman Ned Price said in a statement. Similarly, White House Press Secretary Jen Psaki told reporters at her daily news conference: Obviously, any loss is a huge tragedy, and we are with the families who have lost loved ones. Read more about the eruption here