More than a month has passed since the Tokyo Paralympics were lifted. At her home in Jaipur's Jagatpura, away from the hustle and bustle of the state capital, Avni Lekha's life has changed a lot in some ways and not so much in some ways. A 10m Air Rifle SH1 Gold Medal And A 50m prone event bronze medal Adorning her bed, it signifies that she is the first Indian woman to win Paralympic gold and the first woman in the country to win two Paralympics medals since Joginder Singh Bedi in 1984. And yet, every day when Lekhera looks at her medals, she has a tinge of enthusiasm.
"Everyone was cheering and whistling and shouting. But I felt sad. All in all, I had won gold and equaled the world record, but for me, I only missed my record by 0.1. My last shot was 9.9. I always want to make sure my last shot is a good one. I have mixed feelings about that moment," says Lekhera.
19-year-old Lekhara is in the midst of appearing for the fourth semester examinations while completing her graduation in law from Rajasthan University. But his mind often goes to that last shot in the 10m air rifle final.
Neat-picking about this momentous achievement of hers was a far cry from the start of the Olympics, when it was a different feeling for Lekha, who was paralyzed from the waist down after an accident at the age of 12.
On 23 August, the largest Indian team to qualify for the Paralympics landed in Tokyo. Within hours of reaching the sports village, Lekhara felt butterflies in her stomach. The enormity of the challenge made her nauseous and hit her nerves like a tidal wave.
Lekhara decided to walk around the sports village, in her specially designed wheelchair and with a pair of AirPods in her ears. It was there that his personal coach Suma Shirur joined him. After a few minutes, Lekhara's apprehensions about her first match were finally over and her coach was asked a question: 'What if I don't win a medal?'
Avni Lakhera with her parents and brother. (Photo Credits: Avni's Family)
Lekhara had reason to be apprehensive. Ever since she started shooting, from being successful at the national level to the 2017 Para-shooting Championships in Al Ain, a kind of scare had struck. Silver and bronze medals fell in their lap, but the young shooters could not touch the gold.
"Suma madam told me whether I win or lose, whether I get a medal or not, our relationship will not change. She will still be by my side and will be there to help whenever I need it. She only did her best from me Asked to perform so that I don't have any regrets," said Lekha Naveen Bharat.
bad start
Despite words of reassurance from Shirur, Lekhara's qualifications were a disaster. She remembers asking herself, 'Why is this happening today?' It was almost as if all the nerves she had been suffering until came to the fore. At the end of qualifying, she was seventh in the standings. She had only 45 minutes to prepare for the finals and constantly chirped in her ear at the shooting range and the encouraging words of her own mother.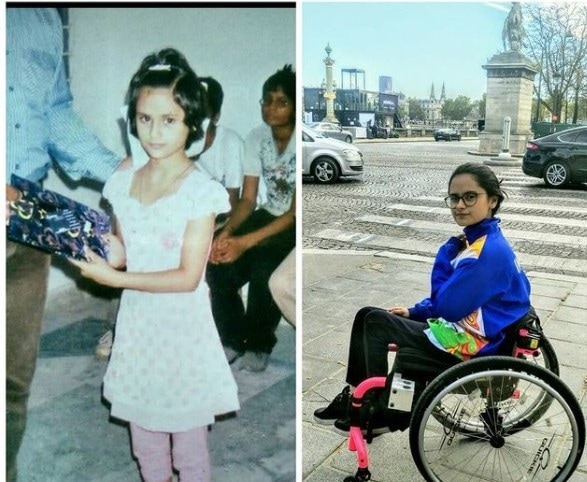 A young Avani receives a prize for a dance competition before the accident.
"The truth is that nothing was going well at that time," said Lekhara. At the time, he had only two technical aspects of shooting. She decided to focus on her pre-targeting and follow-up.
Follow-through is how shooters continue to look at the target after the shot is taken. (They keep their weapon steady even after pulling the trigger). This gives the bullet time to move on and hit the target. Pre-aiming is when the shooter prepares the body for the shot before putting his cheek on the rifle.
Every muscle, every aspect of the brain needed to be put together before the shot and once that trigger was pulled, Lekhara needed to make sure the bullet went where it wanted. When nothing was going on in qualification, it was the only way to get myself back on track.
"Everything that could have gone wrong went wrong in qualifying. But I also felt that the worst was behind me. I was seventh and the worst would come in eighth."
The ability to remain calm when things aren't going their way is something Lekhara is well aware of. When the 2020 para-sports season was canned due to the global pandemic, Indian shooters were provided with shooting range simulators (digital target setup). Still, staying at home and practicing was not the norm.
"In the beginning, it was tough. You don't get to experience training at a range. I was practically shooting from my kitchen hallway to the master bedroom. Somebody is cooking, sometimes the TV is on.. This was not the proper way of training," Lekha said, pointing to the kitchen and bedroom of her home in Jaipur.
Soon a program was finalized. Chandrashekhar, one of his first shooting coaches in Jagatpura, accompanied him regularly during this period, which helped him hone his shooting skills. His concern was over the 50m three-position event, and the prone position in particular.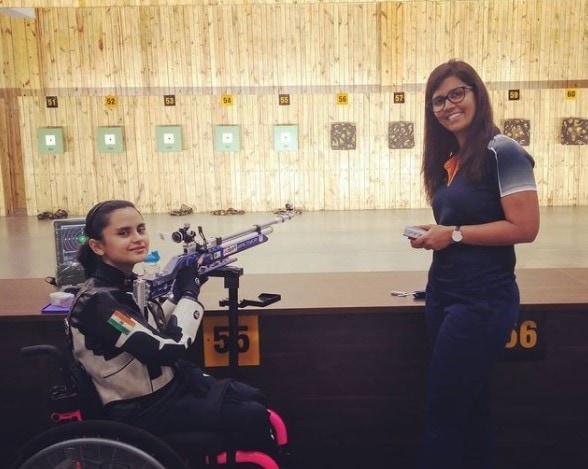 Avni with her coach Suma Shirur.
In the SH1 category of shooting at the Paralympics, athletes with paraplegia or non-functioning limbs participate, and competitions such as three-position have to be specially tailored for them. Since standing, kneeling or prone positions are not all possible, adjustments are made. As for the standing position, athletes like Lekhara shoot from their wheelchairs. For kneeling, a flat board with a circular object is provided on which the elbow rests. This is an attempt to imitate the elbow resting on the knee.
But it was the prone position that would cause Lekha the most physical discomfort. "The kind of injury he has, he doesn't have the sensitivity below the waist. So sometimes his elbow position was not where it should have been," Chandrashekhar told The Naveen Bharat.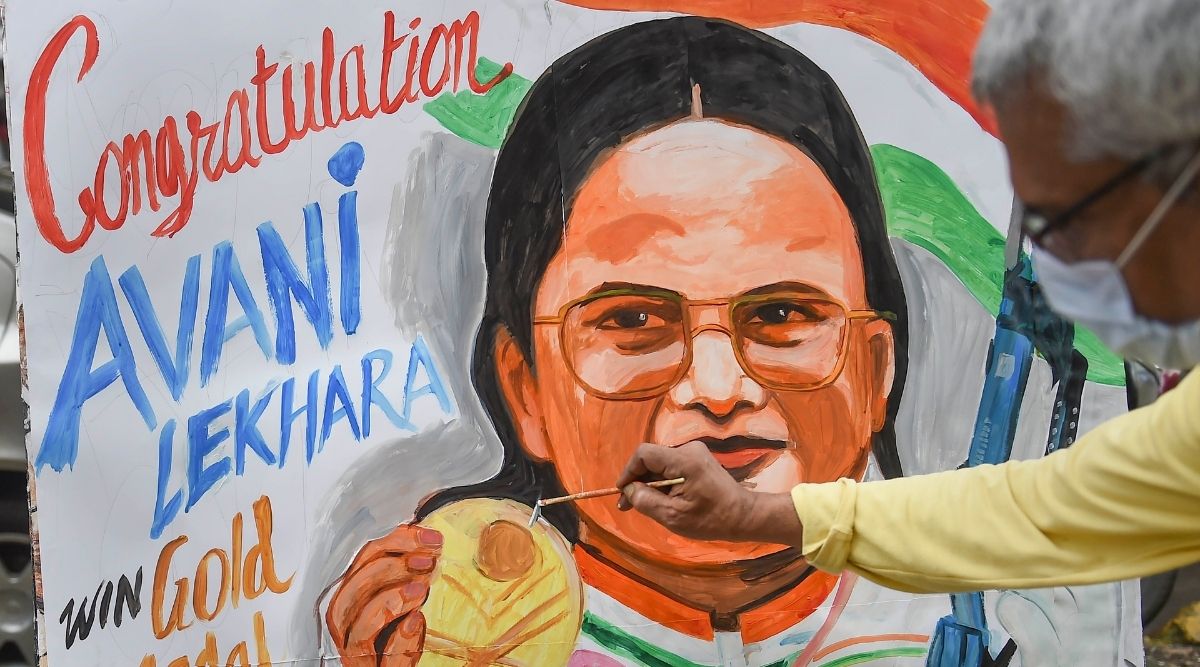 Lekha has to lean forward even in prone positions and the extra pressure on her back was something that was making her uncomfortable. Not only this, in the months of May and June, he decided to call off the shoot completely and focus entirely on physiotherapy.
"During the World Cup in March, I had some pain and felt I couldn't go to the Paralympics with this issue."
She said, "It was a risk. You can't stop shooting a few months before such a big event. I have the confidence to shoot but shooting in pain is another thing. I was happy with my bronze medal because 3P It's a long match. 120 shots, about three-and-a-half hours of qualification and then 45 shots in the final, which is almost double the normal final time. There were back exercises, icing sessions and sprays for two-three hours a day."
In this era of not shooting, Lekha focused on mental exercise. She constantly imagined different scenarios in her mind. It is his strength that Shekhar admits has taken him to such heights.
"His understanding and intelligence about shooting is very good. She studies the game, takes notes and tries to figure out the best way to be successful. For her, shooting was something she wanted to practice at the highest level. Nothing else matters," Shekhar said. In fact, he was so convinced of a medal that he texted his father on July 21 at 1 a.m. to assure him that the gold belonged to him.
Even after the qualification, Shekhar felt that the gold belonged to his ward, but Lekhara was not so sure. All she had at the time was the knowledge that she was in the final and now it was a clean slate. But the pre-target and follow-through worked. All his preparations beget one of his worst qualifying performances. With one shot left in the final, he was assured of the gold.
That gold medal is now the first thing she sees when she wakes up and the last thing she sees before she goes to sleep, but the mind keeps thinking about that last shot.
"I'm very bad at remembering good things. I also remember everything that happened 10 years ago. In a sense, it's a good thing because every match I've played, I come back and make up for my mistakes. Sometimes I think I did everything right but it still didn't work out (I did everything right but it didn't work out). I really don't like when it happens."