Breaking News
Olympic champion Neeraj Chopra wants to continue with current coach for 2024 Games
Olympic gold-medallist javelin thrower Neeraj Chopra on Friday described his German coach Klaus Bartoniet as the best for himself, saying he would like to continue his stellar partnership at the 2024 Paris Games.
During a panel discussion at the 'India Today Conclave', Chopra said that Bartonitz's methods suited him as the biomechanical experts crack jokes even during intense sessions, making training a whole lot more enjoyable.
"At times, I don't like to be too serious during training sessions. Koi coach aise hota hai, danda pakkarke piche khade hai (There are some coaches who stand with a stick). But Klaus sir is different," The 23-year-old said he sat down with Abhinav Bindra, India's first individual Olympic gold medalist.
"When we have to be serious and intense, we are serious but sometimes he cracks jokes during sessions and that makes training enjoyable,"
"His training methods suit me and I have a great relationship with him. I want to continue training with him for the next Olympics as well," said the young star, who created history by winning India's first athletics medal at the Olympics in Tokyo.
Chopra has been training with Bartonitz since 2019. He was previously training under another German in former world record holder Uwe Hohn, who was recently released by the Athletics Federation of India due to several differences including his salary and training methods.
Neeraj threw 87.02m in his first attempt but improved his record with a distance of 87.58m in the second essay to take gold at the Tokyo Olympics (File)
Chopra also revealed that he did only a few drills before the Olympic final in Tokyo as he wanted to protect himself for the actual competition.
"Most of the finalists came out for warm-up an hour and a half to two hours before the final and they were doing a lot of throws. But I only did two or three warm up throws.
"I wanted to do my best and conserve energy during the actual competition. The medal was in the actual competition itself. My coach was looking for me and he told me why I was not doing warm up throws," he said.
"It was very hot in Tokyo that day and I told him that before the qualification round (three days before) I did a lot of warm-up throws and that gave me less energy than during the actual event."
Chopra rose to the top of the nation after his historic achievement in Tokyo, but faced an uncertain time in 2019 after undergoing elbow surgery on his throwing arm.
"It was a very difficult time for me when I had that surgery. I had to take complete rest for 30-45 days. I finished things to come back quickly. I was asked to do slow cycling exercises but I did so much that my legs hurt.
"I missed out on the World Championships in which the medalists covered the distance I could. But I was happy that I could qualify for the Tokyo Olympics in my first international event (early 2020) in South Africa," he recalled.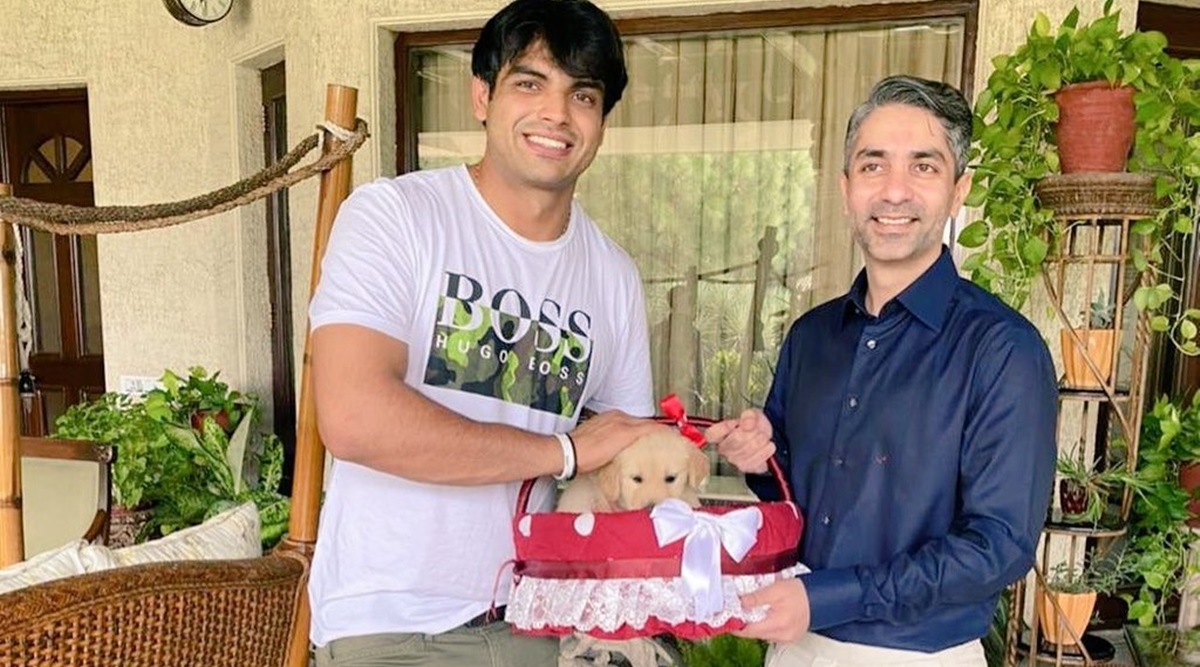 Abhinav Bindra with Neeraj Chopra at East Farmhouse near Zirakpur on Wednesday. (Twitter)
When asked why he cut his long hair before the Tokyo Olympics, Chopra said, "I was participating in competitions (in Portugal and Finland) before the Olympics wearing a cap and bandana. Sometimes, when I used to attack for the final throw, the cap would fall down and that was affecting my throws.
"So, I was losing focus because of that (long hair)," Chopra said at the panel discussion, which also featured Olympian and former tennis player Manisha Malhotra, who praised the young Haryana player's uncompromising and easy-going nature. talked about.
Bindra said India winning Olympic gold through Chopra 13 years after the trend-setting victory at the 2008 Beijing Games pointed to the slow development of the sport in the country.
"Taking 13 years (to win another gold) is a slow progress but still Indian sport is progressing and the next decade could be India's decade in the development of the sport.
"Also, today's generation of Indian athletes are fearless, confident and Neeraj is one of them. The kind of resources the existing athletes are getting can be compared to the resources of any country.
Talking about himself, Bindra said, "I am basically a darpok (timid) and shy person, I have doubted myself throughout my career, did crazy things to win it."
His battle with a mind full of doubt is described in his biography and he shares several anecdotes, including his decision to calm himself down with a couple of Jack Daniels whiskeys the night before the final in Beijing.
Chopra, on the other hand, said that he cannot live without a good night's sleep ahead of the big final.
"For me too, mental fitness and physical fitness are important. But I need to sleep well before the events, although I could not do so before the Tokyo final.
Chopra's social media valuation and brand value skyrocketed after Tokyo Olympic gold, reportedly placed second Virat Kohli.
When asked about her presence on social media, Chopra said, "It's only in free time. I make these videos of earlier training and post them when I'm resting. My main focus is my sport."